The Ultimate Guide to Finding the Best Car Wash in Dallas

Dallas, the bustling metropolis of Texas, is home to a plethora of car wash options.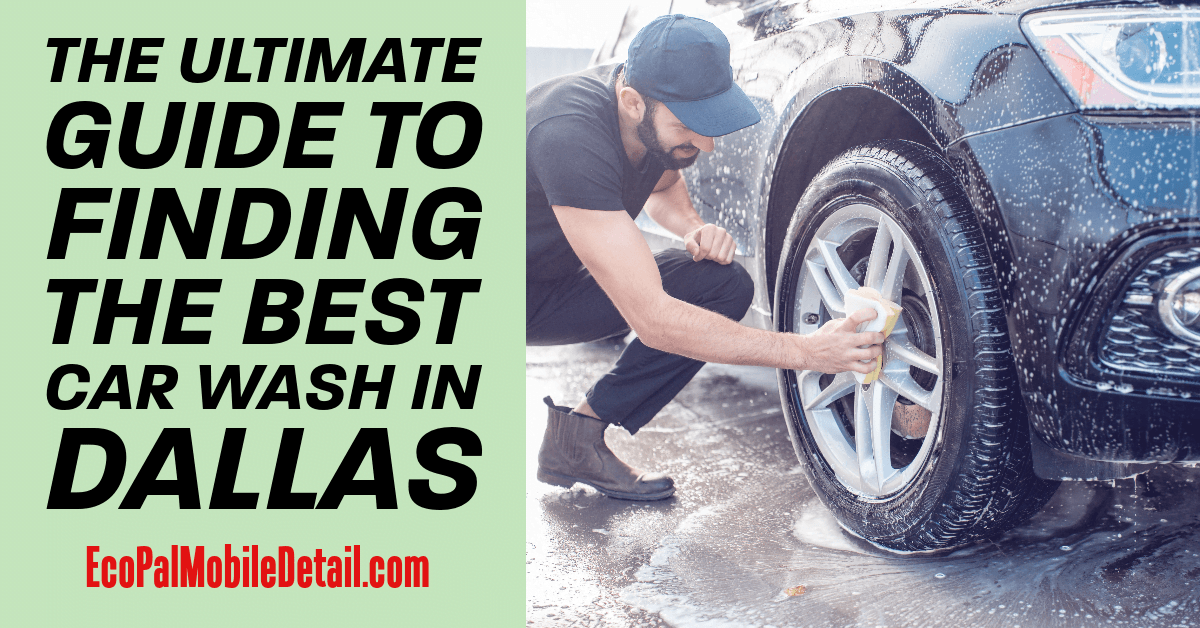 But finding the best one that suits your needs can be a daunting task. After all, your car deserves nothing but the best care. In this comprehensive guide, we'll walk you through the essential factors to consider when searching for the ultimate car wash in Dallas. Whether you're looking for convenience, eco-friendliness, or top-notch service, we've got you covered.
Location and Accessibility :
The first step in finding the best car wash in Dallas is to consider its location and accessibility. You'll want a car wash that is conveniently located, saving you time and effort. Additionally, assess whether it's easily accessible, especially during peak hours. Look for car washes that are situated along your daily commute or near places you frequently visit.
Services Offered :
Different car washes offer varying levels of service. Some may provide basic exterior cleaning, while others offer comprehensive detailing services. Evaluate your car's needs and preferences. If you're looking for a quick exterior wash, a drive-thru or self-service car wash might suffice. However, if you want a more thorough clean or detailing, choose a facility that offers these services.
Eco-Friendly Options :
Dallas residents are increasingly conscious of their environmental impact. If you're among them, consider opting for an eco-friendly car wash. These facilities use water-saving techniques, environmentally friendly cleaning products, and responsible waste disposal methods. Choosing an eco-friendly car wash not only cleans your car but also supports sustainability efforts.
Reviews and Reputation :
One of the most reliable ways to find the best car wash in Dallas is by reading customer reviews and assessing the establishment's reputation. Online platforms and social media are treasure troves of feedback from previous customers. Look for consistent positive reviews regarding cleanliness, service quality, and professionalism.
Pricing and Membership Options :
Car wash prices can vary widely in Dallas, so it's essential to consider your budget. Some car washes offer membership programs that provide discounts for regular customers. Evaluate the pricing structure and membership options to determine which car wash aligns with your financial preferences.
Equipment and Technology :
Modern car wash facilities often invest in state-of-the-art equipment and technology to provide superior cleaning results. Look for car washes that use high-quality machines, gentle cleaning materials, and advanced techniques to ensure your car gets the best treatment without risking damage.
Customer Service :
Exceptional customer service is a hallmark of the best car washes. Friendly and knowledgeable staff can make your car wash experience pleasant and hassle-free. Pay attention to how staff members interact with customers and whether they are willing to address your concerns.
Additional Amenities :
Some car washes offer extra amenities like vacuum stations, free air, or waiting areas with refreshments. These add-ons can enhance your overall experience and convenience, making them worth considering when choosing the best car wash in Dallas.
Conclusion :
In Dallas, the best car wash for you is a blend of convenience, quality, and value. By considering factors like location, services, eco-friendliness, and customer reviews, you can confidently make an informed decision.
Your car deserves the best care, and with this guide, you're well on your way to finding the ultimate car wash in Dallas that meets your unique needs.
Contact EcoPal Mobile Detail for professional car detailing in Dallas TX USA.